Leman Steinschloss von:
Nettetal 9
56727 Mayen/Hausen
Tel. 02651 2644

Die Leman Rifle ist mit Halbschaft aus getigertem Ahornholz gefertigt. Alle Holz-Metalleinlagen sind perfekt ausgeführt. Der Schaft ist in Glanz -Finish gehalten. Alle Metallteile sind hochglanzpoliert und rostträge gehärtet. Das schwere Siler Steinschloss ist leicht graviert. Die Zündung erfolgt sehr schnell und zuverlässig. Der vom amerikanischen Herstelle Getz in Kal. .45 gefertigte Lauf hat eine sehr gute Präzision.


Schussleistung: Sandsack aufgelegt 10 Schuss 42 mm. Kugel .435 H&N Pflaster 0.42 mm, Pulver 60 Grains Goex FFg.
Stein: englische / französische Flints
Als Ersatz für das in Deutschland nicht mehr erhältliche GOEX FFg Pulver kann Schweitzer Nr. 2, (FFFg ) zwischen 55-60 Grains geladen werden.
Biographies: Henry Eicholtz Leman
<![if !vml]>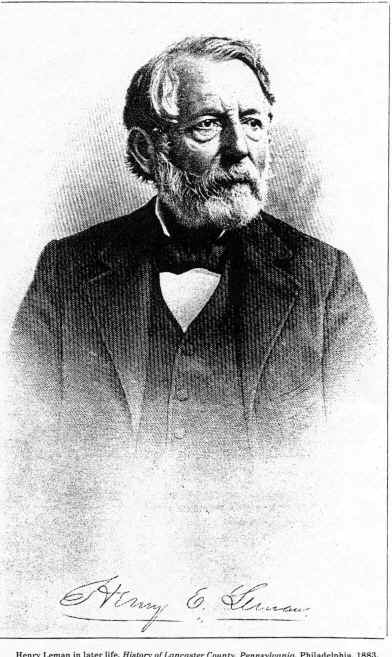 <![endif]>
Henry E. Leman
RIFLE BARREL
Octagon, 43 ¼" long (approximately), 1.1" (approx.) across the flats at the breech end. Caliber cannot be determined but based on the thickness of the chamber wall at the location of the touchhole; it seems to have been near .45 caliber.
Heavily encrusted with rust from the muzzle to approximately 8" from the breech end. It is reported that the moderately rusted breech end was sticking out of the ground while the remaining length was buried in the ground. The severe corrosion has progressed completely through the wall of the barrel section between 8 & 11 from the muzzle and 16" from the breech, leaving the bore exposed for that part of its length. The accumulated rust is near 3/8" thick on the forward 6" of the barrel. The rear sight dovetail slot is identifiable at 10" forward of the breech end. The presence of the ignition "touch hole" on the right side flat, 1/2" forward of the breech end, identifies this barrel as from a flintlock.
The accumulated rust was removed from the breech section (for about 8") by electrolysis and faint die stamping was revealed. Very light filing of the top flat in the vicinity of the stamping allowed the word LANCASTER to be read although some letters were not decipherable. If any other marking (s) were originally
Present they are no longer detectable. The lettering style and size of the word LANCASTER, is quite similar to that found on some guns made by Henry Leman of Lancaster, Pennsylvania, circa 1837-1860.While one would expect the Leman name to be a part of the barrel marking, the Extent of corrosion on this barrel might well have obliterated it. Nevertheless, I am of the opinion that this barrel is a Leman product. That opinion is based solely on the style and form of the LANCASTER stamping (photocopy of Leman stamp attached) and is therefore arguable. The accompanying article on Henry E. Leman by Charles E. Hanson, Jr., documents several purchases of flint lock Leman rifles with 42" barrels during the 1850's.
These "dug-up" relics are actively collected today. An interested collector of such items would very likely be eager to acquire the barrel in light of the historically significant location of its discovery.
THE PENNSYLVANIA- KENTUCKY RIFLE
LEITNER, JACOB Yorktown, Pennsylvania. Tax list 1799.
LEMAN, HENRY E.
In the beginning of this biography of Henry E. Leman, it might be interesting and important to point out that claims have been made on a number of occasions that gunsmiths named Leman worked in Lancaster County in the eighteenth century. Such trade activities might be documented at a later time; however, at the moment the records of the Lancaster County Court House do not support the hypothesis of Leman production before the time of Henry E. Leman. Nor are there any guns known to the writer, which can be attributed to a Leman gunsmith of the eighteenth century.
Henry E. Leman was born in Lancaster, Pennsylvania, on March 8, 1812. At the age of sixteen he is reported to have been apprenticed to Melchoir Fordney, one of Lancaster's most outstanding gunsmiths. In 1831 he moved to Philadelphia
And worked for the Tryon Company, which was manufacturing guns in a factory. .
Advertisement of H. E. Leman in a Lancaster Business Directory for 1843. Although there is evidence that Leman was a prolific producer of arms, only a few can be found in collections throughout the country.
<![if !vml]>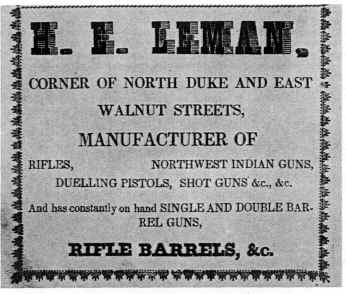 <![endif]>
H.E. LEMAN LANCASTER, PA_ By Carl P. Russ This illustration is from Guns on the Early Frontier el, published by University of California Press. 1957 ... <![if !vml]>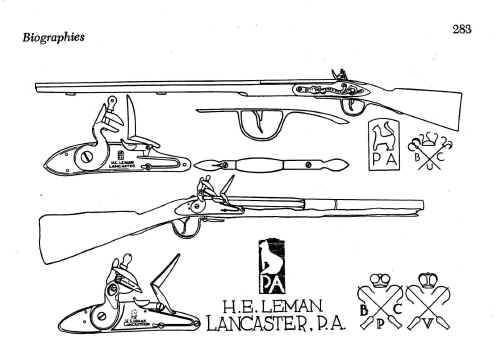 <![endif]>
PLATE 227
The upper sketch is of a trade musket with a flintlock, octagon-to-round barrel 36 1/4 inches long with a Birmingham proof mark on the left-side facet of the octagon near the breech. The total length of the gun is 51 inches. On the lock plate, in front of the hammer is a fox like animal over the letters "PA' and H. E. Leman, Lancaster. The lock-bolt plate is in the shape of a dragon as found on other trade s. The Blirm proof mark on the barrel suggests that Leman imported the barrel. He may rave also Imported Ten lock and engraved it in his factory in Lancaster. The gun is exhibited at the Kit Carson Museum, Trinidad, Colorado.
The barrel has been sawed off the lower gun, which is now owned by Mr. E. A. Hawks of Concord, Massachusetts.
<![if !vml]>

<![endif]>
Henry 1. Kauffman PLATE 228
Rifle with percussion lock, full stock of maple with artificial grain, brass mountings, octagonal barrel 40 inches long marked H. Leman, Lancaster, Pa., Warranted. This type of rifle was probably made early in Leman's career. The patch box, trigger guard, and toe-plate are attractively engraved. Much of the artificial grain remains on the specimen.
<![if !vml]>

<![endif]>
Biographies 285
H. I. Kauffman PLATE 230
Percussion lock rifle, maple stock, plain brass mountings, octagonal barrel 44 inches long, marked H. Leman, Lancaster, Pa., Warranted, on top facet of barrel. This rifle had the usual artificial grain, which Leman used, but the style of patch box is rarely found on Leman rifles. Rifle with percussion lock marked Leman, Lancaster, Pa. Plain brass mountings, set triggers; plain maple stock with artificial grain, and octagonal barrel marked H. Leman, Lancaster, Pa. It is obvious that Leman used both round and elliptical patch boxes on his rifles. Musket with percussion lock marked Leman, Lancaster, Pa. Full stock of walnut wood, brass mountings, round barrel 33 inches long, marked Leman, Lancaster, Pa. This gun is identical in size to the "Mississippi" models made by contractors like Tryon and Whitney.
THE PENNSYLVANIA KENTUCKY RIFLE
Rifle with percussion lock, half stock of plain maple, brass mountings, set triggers, and octagonal barrel marked H. Leman, Lancaster, Pa., on the top facet of the barrel.The brass tacks on the butt and the leather on the fore stock are usually considered evidences of Indian ownership of a rifle. The tacks were presumably added by an Indian to decorate the rifle and the laced rawhide to repair a break in the stock. After 1850 the factory at Oregon was not used and in 1861 his increased business Caused him to build a factory at East Walnut and Cherry Streets in Lancaster, where His machines were powered by a steam engine. It is also interesting to note that the 1859-60 Lancaster Business Directory lists a number of men who were known as Gunsmiths in the individual listing in the Directory but had only an address for their residence and were not listed under the heading of gunsmiths in the merchantile establishments of the city. These men were probably employed by Leman at this time of expansion in his business and most of them lived in the north end of town near the Leman factory. It is very doubtful if any guns exist that bear their names on the top facet of the barrel. Their names are as follows: Jacob Brock, Lewis Ealer, Benjamin Fox, Andrew Frailey, Samuel Hambright, Levi N. Hart, Christopher Hinkle, Charles Howerter, Henry Howerter, Frederick Konig, John Remly, Adam Ropp, Henry Sheaff, Enoch Stokes, William Troyer, Solomon Weidman, and John Werner. His new factory in which these men worked is standing today, although it is divided into five residences. The men listed as owners of retail gun shops in this Directory are John Drepperd, junior and Senior, Eicholtz Bros., J. Fordney and H. Gibbs.
Pistol with under-hammer percussion lock, stock of plain maple, brass mountings, octagon-and-round barrel marked Leman, Lancaster, on a side facet. This is the only Leman pistol known to the writer.
In 1873 Leman moved to a larger factory at James and Christian Streets, where he continued in business until 1887, when his factory was closed. In 1888 his business. is not listed in the Lancaster Business Directory but a Frank B. Leman is listed as a gunsmith at 538 Middle Street, Lancaster, Pennsylvania. The writer is not aware of any relationship between the two men. In the early years of his business activity Leman is thought to have made most of his own parts, although he certainly made a few guns with Birmingham proof marks on the barrels and possibly English locks. This practice is difficult to
The invention of the percussion lock doubtless stimulated many craftsmen to improve on the early pattern. The function of this side hammer or "Mule ear" lock was satisfactory but it never was popular with gunners and few of them were made. Some of them were made by men who seem to have been experimenting rather than producing locks in quantity. A side hammerlock in the author's collection has the mainspring on the outside of the lock plate.
Although this lock is the only one known to the writer made by Drepperd of Lancaster, Pennsylvania, it is not surprising that he made one. He was a fine craftsman and it is reasonable that he would try his hand on this strange style. It is also possible that he made it for a customer who specifically asked for such a lock. It is obviously the shape of a standard percussion lock and is beautifully engraved in the style and workmanship of a fine lock maker.
explain in any other way than by the fact that he could import barrels and locks cheaper than he could make them here. His barrels were rifled in his factory and the mountings were cast in a small foundry connected with the business. In 1875 he started buying barrels made by the barrel specialists in Berks County.
Leman made a great variety of guns throughout his career. Perhaps the rarest and most interesting is a type of trade gun with a flintlock, which is illustrated in Plate 227. Its barrel is 36 inches long with an octagonal section nine inches long at the breech. On the lock plate a fox-like animal is impressed with the initials "PA." Beneath this mark "H. E. Leman, Lancaster" is engraved. On the left side facet of the barrel a Birmingham proof mark is found and a small replica of the emblem that appears on the lock plate. A typical dragon ornament is used as a lock-bolt plate. The presence of a flintlock on this gun suggests that it was made in the early years of his career.
A long rifle in the author's collection with a full stock and a percussion lock was probably made about the same time as the trade gun, for it has ribbed ramrod pipes identical to those on the trade gun. It has a patch box, which reaches to the butt plate and is engraved with an interesting motif. Its barrel is 40 inches long and is octagonal throughout. The stock has a simulated curl, which Leman seems to have used on many of his rifle stocks.
A close examination of Leman's products indicates that in the beginning of his career he was an alert and aggressive businessman. He seems to have followed the trends of the times in the style of gun he produced and he certainly made a large variety of guns. It appears that his early sporting rifle with a full‑maple stock became a half-stock with the same patch box that be had formerly used. The round and oval patch boxes were later used on the half-stock rifles, of which he apparently made a great many for local trade and shipment to the West.
He also manufactured muskets from the 1840's to the Civil War period. A number are known with 33 inch barrels, which are about the same size and shape of the "Mississippi" models, but Leman's lack the brass patch box. Some of these muskets have iron mountings throughout while some are made of mixed brass and iron parts. He also made the regular models in the early 1860 period, similar to Springfield and other makes.
Rifle with percussion lock marked Conestoga Rifle Company, full stock of maple covered with red paint, brass mountings, octagonal barrel 40 inches long marked Conestoga Rifle Company on the top facet of the barrel. Double rifle and shotgun with percussion locks, brass mountings, silver inlays and patch-box cover, walnut stock, round barrel marked H. Leman, Lancaster, Pa.
He must have been active in 1885, for the Jos. C. Grubb catalogue for that year included "Half stock Leman rifles with and without a patch box,, with extra prices on bores smaller than 150 and barrels over 42 inches long."The same catalogue includes data on the legendary Conestoga rifles which name Leman is thought to have used for rifles of poorer quality than his standard products. This theory is supported in the catalogue, for his regular rifles are listed in a price range from $10.25 to $11.25, while the Conestoga rifles sold for $7.75 to $9.50, the full stock with a patch box being cheaper than a half stock with a patch box. The Conestoga Rifle from the V. Nolt collection with a coating of red paint is a particularly interesting weapon.
I the large number of Leman locks found on guns made by other gunsmiths suggests that he did a considerable business in that line. The appearance of his name on a lock plate cannot be regarded as evidence that he made the gun on which such a lock is found, Leman refused to make breech-loading guns, and it is interesting to speculate how long he could have continued had his business activities not been terminated by his death. By the end of the nineteenth century there was a reduced demand for muzzle-loading guns, and it is doubtful if he could have stayed in business much longer without changing to breech-loading guns. Henry Leman was the last great gunsmith to have lived in Lancaster; he was spoken of by people who knew him as a man of AM and integrity. The writer has read a number of letters written by him, in which he appears to have transacted his business with courtesy and honesty. If there is a special niche in heaven for gunsmiths, he should be there.
Fairview (ten miles up Allegheny), Pittsburgh, Pennsylvania. 1837.
Southampton Township, Somerset County, Pennsylvania. Tax lists 1863, 1867, 1874 .
Leman, Riflemaker
Elchholz Leman was born in Lancaster, PennMarch 8, 1812, and died there March 12, 1887. d lived in Lancaster County for generais no evidence that any of them wereas and still is pronounced in three dif- Leamon and Lemon. The gunI friends and many of his descendants said However, some of Henry's cousins spelled theirleamon and he himself said that was the correct I'll do the same: if it was good enough for enough for me,I was correct in identifying the Lemans . They came to Lancaster County,
ret Adelia, 1817-1842. mold, wiper and charger. They were to be packed in boxes Leman was apprenticed at age 16 to Melchior of not more than 25 rifles each. First proof was one-half three years. He then went to work for George ounce of powder and two patched balls. Second proof was a journeyman gunsmith in 1831 and stayed one-half ounce of powder and one patched ball. Finished he opened his own shop in part of his father's rifles were inspected. Apparently the contract was completed satisfactorily: he had finished 3 10 rifles by July 14, nation of training in his youth, three years 1838. to a master workman in the Lancaster. For some years Deringer and Tryon edged him out one years working experience in a busy government rifle contracts and James Henry did the same, probably influenced his development of for rifle sales to the American Fur Company. However,Leman boldy entered the manufacture of Indian trade guns and received a government contract make 500 of them, together with 250 plain Powder and pouches, on February 8, 1842. In August of the a year he was awarded another contract for 600 Northv,,, guns of two barrel lengths and 300 each of powder horns and shot pouches. He was now in direct competition the Tryon Company and by 1855 he had eliminated competitor for government Northwest gun contracts.During these years Leman made a wide variety rifles for the regular civilian market. Many of the su specimens are long Lancaster rifles, often stocked in pi maple artifically striped. As early as 1840 he also repaired muskets and other arms for the state at Philadell) Harrisburg, and Meadville Arsenals. Leman was an energetic businessman. An advertisement in the Lancaster Intelligencer advised the readers that "The subscriber has constantly on hand several hundred Rifles, of every description, and particular. calls the attention of persons removing to the west, Jr. at Also double and single barrel shot guns, Armstrong dueling pistols, Rifle barrels, etc., all of which are war. Henry E. Leman." Contracts with fur trading companies were vigorously pushed. The Ewing Brothers of Fort Wayne, Indiana and and points west, were good customers. One of their orders in work 1849 included 100 rifles, bores 30 to 35 to the pound, two thirds with bright barrels at $7.45 each, one-third Leman browned barrels at $7.60. Rifles were one-half flint and cap one-half percussion. In 1850 they bought 34 flint "Indian rifles" at $7.45, thirteen ditto with browned barrels at $7.60, 31 percussion Indian rifles with bright barrels at and $7.20 and 19 ditto with browned barrels at $7.85. About 1850 the country mill near Catfish was abandoned and Leman built a new factory in Lancaster, at the plate corner of Walnut Street and Cherry Alley, which utilized and steam power. The building was still standing a few years. speeded up production. On January 17, 1852, he wrote one of the western fur trading companies, "The style and ill finish of the Rifles have improved since we are now in the rathiago, divided into row houses. The new factory consolidated his operations and avail new factory." According to the 1850 census Leman had 34 employees. During the year ending June 1, 1850, he bought 50 tons of bar iron, 2,500 gun barrels and 2,500 pounds of frizz brass. Production for that year was 5,000 gun U.S.2,500 complete guns. In 1851, Henry married Anna Dubois daughter of Louis Dubois and Anna Hull of Newburgh, W., Adelia and James Cameron. Both Henry contract specimens dated 1842 and 1843 on the lock.
I take pleasure in saying that during my intercourse with you for these last twenty years, none other than the be feelings have existed between us, and having as You know been extensively engaged in the Indian trade in all its branches among the prominent items are the articles Of Rifles which you have supplied me with and am happy to add that the largest portion of my purchases have been of Your manu­facture and in every case they have given entire satisfaction and in no instance within my recollection have one of your rifles proved imperfect in any one of its parts. The Ewing Brothers, still trading with Indian,
Indiana, Missouri, Iowa and Kansas, made theat purchases:July 2, 1852 16 Indian flint rifles at $7.00.
8 Indian percussion rifles at $7.25. 16 Indian flint rifles Browned at $7.15. 7 Indian percussion rifles Browned at $7.40.
1 Indian percussion rifles Browned backstrap. October 15, 1856 24 Indian Rifles at $7.00 2 Indian Rifles backstrap browned at 7.75.
2 Indian Rifles backstrap browned, engraved at $8.00 4 Indian Rifles backstrap browned, percussion at
$8.00 June 18, 1853: 36 Flint Indian Rifles @ $7.50 36 Flint Indian Rifles Browned @ $7.65. A Leman's letterheads at this time had the embossed inscription: "Henry E. Leman, Manufacturer of Rifles & Rifle Barrels, Lancaster, Pa." In one letter he wrote that
all rifles were shipped in cases marked "Rifles from Leman, Lancaster Pa." He also remarked that all I were hardened and checked by flinting and that "We never made any other than 'Buck horn Sights."' Lots of Lemans were going to California and a special
heavy model was stamped "Bear Rifle" on the I specimen in a private collection is made for a .58 caliber ball.
In 1855 a bitter controversy erupted between govern­ment inspectors of contract rifles and Northwest guns and
Edward Tryon. Major P.N. Hagner examined Lenian rifles in the store of Newlin & Marshall in Phila,
delphia. They had brass patchboxes and could be Purchased for $8.00. He pronounced them superior tO Tryon's Indian rifles "I think it will prove as good a as you could find on the market for your purpose."
Leman percussion Northwest gun, caliber 0.70, 36 inch barrel, ca. However, the next apparent result of the controversy 1857, and a late Leman flintlock Northwest gun, caliber 0.70, 361/4­
was a heavy procession of Northwest gun orders
inch barrel, period 1860. Both from the Museum of the Fur Trade, Chadron, Nebraska.
serviceable "Indian rifle" for the West. It was strongly made with heavy barrel, varying in caliber from.44 to .58,and a plain maple stock artificially striped. The breech plug was substantial and the nipple drum turned in against the lug so that it had to be removed before the plug could be taken out. This special model was extremely popular with Indians and had practically no competition from other makers. Government agents bought them by the hundreds and so did the trading firms dealing with the Plains Indians.
® Registered and © Copyright by Friederike C. Neumann
Letzte Änderung am: 29.03.2010